A Job Interview Miniguide
This article was reprinted with permission from responsewebrecruitment.co.uk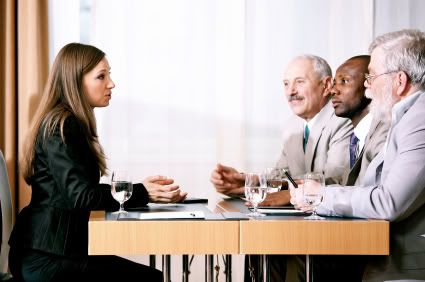 Tweet
In part 1 of the 10 key reasons a job interview could go wrong, we looked at how a lack of preparation, dressing poorly and turning up late for an interview could all have a very negative on your chances of interview success. In this 2nd and final part, we look at a further 5 things that could scupper your chances of clinching that next big job.
6. Failing to answer the ACTUAL question
Listen carefully to the question, there will be a specific example of a skill or experience that the interviewer will be trying to draw out. Sometimes nerves can take over and you will begin to waffle about everything apart from what the interviewer is actually asking.
As I mention in
part 1
the key here is in the preparation. Although you don't want to sound too rehearsed, by practicing the answers to typical interview questions, you will be able to try and eliminate the waffle and answer the question with real substance.
7. Failing to portray positive body language
Remember, from the moment you arrive to when you leave, you need to be fully aware that you are there to impress and to sell yourself.
So, don't sit in reception with your legs stretched out, hands clasped behind your head with a chilled out demeanour. Greet the interviewer with a firm (but not iron grip) handshake, and certainly not a limp handshake which might suggest a weak character. Smile and make eye contact. Remember that those first few seconds are a great opportunity to create a great impression.
When you are in the interview, avoid the classic negative body language traits; don't cross your arms as this can be interpreted as defensive and try to sit forward and make direct eye contact to demonstrate your enthusiasm for the position.
If you can subtly imitate your interviewer's positive body language this will certainly build up a rapport, but try not to make it too obvious or they may just find you a tad weird!
8. Failing to sell yourself
One of the classic mistakes we often see in interviews is when candidates believe it's a sign of arrogance to give examples of where they have excelled in a position. I'm not sure whether it's a British trait that perhaps we feel too reserved to boast about our achievements. It certainly isn't the case over in America where candidates are much more confident about self-promotion.
But, there is obviously a fine balance between arrogance and confidence. For example, in an interview, you could say, "I have a reputation for delivering an excellent ROI on marketing projects", rather than, "I am the best marketing person in my company".
Make sure you add some substance when reflecting on your strengths, and it is always wise to reflect on some of the projects you delivered and the facts and figures behind those projects.
| 1 | 2 | Next Page