The job interview questions you need to pay attention to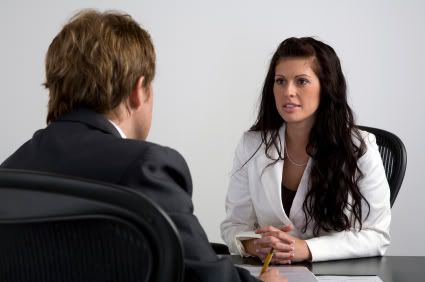 This post was written by Brianna Raymond, a Content Writer and Certified Professional Resume Writer (CPRW) at PongoResume.com.
Tweet
Job interviews are tough, and so are the questions. Learn how to answer five of the toughest interview questions here:
1. "Tell me about yourself."
This is not the time to share your life story. What they're looking for is a brief overview of the aspects of your experience and background that relate to the position. Talk about some accomplishments or strengths you felt really good about, and how you think they prepared you for the position you're interviewing for.
Example: "I have six years of advertising experience, and spent the past three years as the Assistant Production Manager at This Company, overseeing production schedules, hiring, and deadlines. In that time, I streamlined the workflow so that we were able to meet the deadline for every monthly print project, and in many cases we went to print well before the actual deadlines. I saved the company two weeks worth of staff overtime and expenses. Time management is one of my greatest skills, and I'm sure it would easily transfer to the Production Manager position you're offering here."
2. "What do you think is your greatest weakness?"
The best way to answer this question is honestly—mention a real weakness that won't affect your ability to do the job, or address a skill you're just learning and want to develop. Avoid calling attention to any weakness that's one of the critical qualities the hiring manager is looking for. And don't try the old "I'm a workaholic," or "I'm a perfectionist" approach.
Example: "I'm not as strong as I'd like to be on social media, so I'm spending about three hours a week blogging on topics I'm interested in, and reading some perspectives on the business-to-business value of social media. I'm already learning some things I can bring here, and hope to find more ideas on how to use social media as a customer relationship tool."
3. "What did you like least about your last (or current) job?"
Don't vent or focus on the negative with brutally honest answers such as "My boss was a jerk," or "They just weren't giving me the opportunity to take my career to the next level." Instead, keep the emphasis on the positive, even though there are sure to be things you weren't happy about.
Example: "That's a tough question to answer. I've had lots of opportunity at This Company, and I work with some outstanding people. I guess if I had to pick one thing, it would be the occasional meeting that goes an hour longer than scheduled. I like to tackle a certain number of tasks each day and that extra hour could have let me to get back to a client more quickly."
| 1 | 2 | Next Page