Job seekers' time ticking
Reprinted with permission from news-register.net.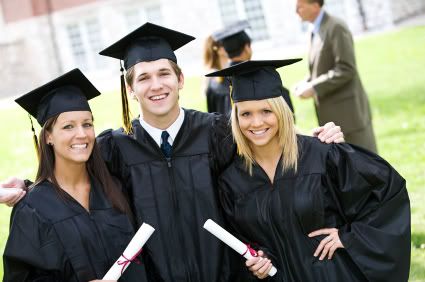 Tweet
BETHANY - A number of 2011 Bethany College graduates plan to return to the hallowed halls to earn their master's degrees. Others will jump right into the working world. Still others are simply undecided about their futures.
As they headed to the commencement ceremony Saturday, several graduates outlined their plans.
Marissa Perelstine of Pittsburgh said she hopes her degrees in communications and social work will open many doors for job possibilities.
"I may go into nursing or join the Navy or do social work. I'm not really sure what I want to do, but I'm happy to be graduating today," she said.
Ryan McFadden of Columbus, Ohio, said he will seek a master's degree and join "the real world." He received a bachelor's degree in elementary education Saturday and plans a career as a teacher.
Tyler Dillinger of McKeesport, Pa., said he also will work toward earning a master's degree and return to Bethany "to help coach baseball."
Michael Pegg of Uniontown, Pa., graduated Saturday with a degree in accounting.
"I want to get a job as a CPA (certified public accountant) and stay in the local area or around Pittsburgh," Pegg said.
Whatever paths Saturday's graduates travel, Bethany President Scott D. Miller urged them to "continue to challenge their minds, to nourish the spirit and to dream big."
"Don't be satisfied by mediocre goals," Miller added.
Rain forced the 171st graduating class to accept its degrees inside the The Hummel Fieldhouse, but the weather did not dampen the enthusiasm of the graduates and their families.
Jonathan Wells O'Grady from Littleton, Colo., received plenty of shouts and applause from extended family members who attended Saturday's graduation. The family lineage, which includes Bethany graduates dating back to the 1800s - Absolem Wells as well early 20th century graduate Charles Shelley Wells, Class of 1902, also were the founders of Wellsburg, W.Va. Among the family graduates in attendance Saturday were Donald C. Wells, '43; Shelley Wells O'Grady, '81; Elizabeth Wells Stone, '75; and Alfred C. Wells, '87.
| 1 | 2 | Next Page