Resume blunders to watch out for
Reprinted with permission from theundercoverrecruiter.com.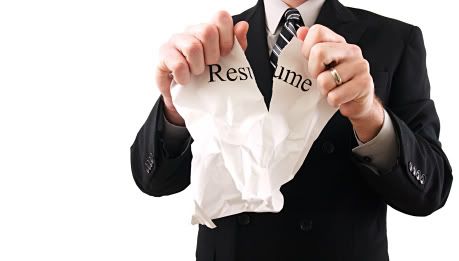 Tweet
If you've worked long and hard on your resume only to find that it's not getting the response you hoped for, it may be because you have made one or more common mistakes.
Over my career, I've seen tens of thousands of
resumes
and I've seen just about every mistake you can imagine. But some are more common than others. If your resume isn't working for you, check whether you have made any of these frequently seen errors.
Resume Mistake #1 - Focusing on Yourself Rather Than on the Employer
Think of a resume as an advertisement for a product, only the "product" is you. Just like any other advertisement, positioning is everything. The person who receives your resume will scan it quickly – perhaps for no more than 20 seconds – to determine whether you can help her company. Your job is to say quickly, clearly and loudly that you can!
Don't just launch into a chronology of your career history. Instead, determine your own positioning by spelling out your message at the start of the resume and giving the reader your version of events upfront. For this reason, you should use the first 1/3 of your
resume
to create a compelling personal profile which highlights your key strengths in an attractive, easy-to-read format.
Resume Mistake #2 – Starting with an Objective
Don't start with an objective. Recruiters and hiring managers don't like them because they focus on the needs of the job seeker rather than the needs of the potential employer. Consider this objective statement:
"Seeking a software engineer position with a progressive employer where I can contribute to the development of new technologies and work with bright, committed people."
This may be very honest but it is irrelevant to the reader, who does not care what you want and only cares what you have to offer. Instead of an objective, try using a positioning statement that clearly and concisely explains what you have to offer.
"Senior Software Engineer with 10 years experience developing leading-edge technologies."
Now the reader can immediately see your value to the company. (For even greater impact, tailor this statement for each position so that the reader immediately sees a match between his/her needs and your skills.)
| 1 | 2 | 3 | Next Page