Cover letter
This post was reprinted with permission from http://employmentdigest.net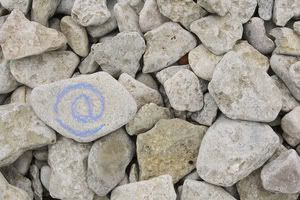 Tweet
How many times have you replied to a job ad via e-mail by shooting them a copy of your resume and cover letter? I'm going to venture a guess and say at least 20 (but more likely hundreds of times) if you've been searching for any significant length of time. Here are some of the most notorious mistakes we've seen-and what you can do to greatly improve your chances of being noticed.
Attaching the cover letter to the e-mail.
What's wrong with that, you ask? Most hiring managers aren't going to open the
cover letter
and read it. They'll go straight to the resume instead. Want to ensure your cover letter gets read? Copy and paste it into the body of the e-mail. Whoever received the e-mail will be much more likely to read it if it's already right there in front of their face.
Writing your whole life story in the body of the e-mail.
Don't go overboard with details; keep it short. The hiring manager won't be willing to invest a lot of time reading your e-mail. Keep it short and to the point.
Providing information that is not relevant to the position.
Here is a great example. When I want to bring an additional resume/cover letter writer on staff, I'm not looking for someone with technical writing expertise, article writing skills, or journalism savvy. Those forms of writing aren't relevant to what we do here. I want a writer who has extensive expertise and certification in resume writing. If someone goes on and on in their
cover letter
(or in the body of the e-mail) about all their other writing experience, they will lose my interest. Instead, I want them to tell me about their most relevant experience as it relates to my needs. I want them to tell me about any resume writing experience they have. Give the hiring manager a brief overview of the most relevant experience you have, appropriate to the position they are trying to fill. This will pique their interest-rather than lose it.
| 1 | 2 | Next Page