College grads have roles reversed
This post was written by Brittney Burns, a staff writer for the Western Carolinian.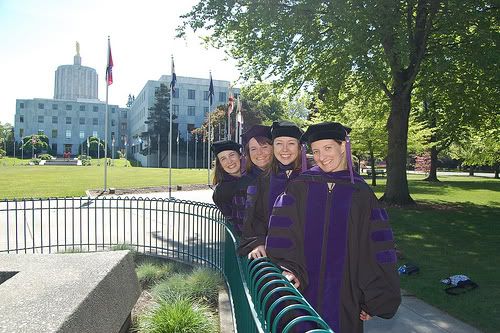 Tweet
With the current state of the economy, students are all but optimistic about securing a job after graduation. Newly deemed alumni, Acacia Brijalba and Megan Jones, were both able to find jobs utilizing their degrees and are now "open for business."
Brijalba and Jones both came to Western Carolina University from Rutherford County, N.C. and remained friends throughout college. Both women pursued a degree that would enable them to enter the teaching profession. Brijalba graduated in December 2009 with a bachelor of science in education for English and Jones was soon to follow, graduating in May of 2010 with a Bachelor of Science in elementary education with a concentration in psychology. Because the December 2009 commencement graduation ceremony was cancelled due to weather, these childhood friends were able to walk across the stage on the same day in May.
Shortly after graduation, Brijalba was hired by Sun Valley High School in Monroe, NC as a 10th grade English teacher and Jones began working at the elementary school she attended as a child, Spindale Elementary in Spindale, N.C., as a kindergarten teacher.
Brijalbais currently a resident of Charlotte, N.C., but when she was at Western she lived in the cottages behind campus near the Maples. She said that living on her on, off campus helped to prepare her for the transition into the real world because she had already gotten a taste of independence. Jones lived on campus in the Harrill dorm her first two years at Western, then moved to Rabbit Ridge until she graduated. Jones remembers dorm life as being fun and "a part of college everyone should experience." Since graduating, Jones has returned to her hometown of Rutherfordton, N.C.
When becoming a teacher, your professors are more than instructors, but role models who will inevitable shape your own teaching styles and techniques. Brijalba has numerous professors at Western who guided her during her education, but is most thankful for Dr. Carter, Ms. Duffy, and Dr. Lawerence. These professors all got to know her on a personal level, and encouraged and supporter her. When Brijalba first applied for the position at Sun Valley High, she didn't hesitate to call on Dr. Carter for help with the application process and obtaining the information she needed to secure the job.
Jones bragged that the entire elementary education department is extremely inspiring and each teacher she had helped to mold her into the teacher she is today; a few teachers she admires the most are Dr. Folger, Dr. Rose, and Dr. Bricker. She said that each of these professors helped to show her the importance of teaching and it is because of their encouragement and dedication that she was able to become a member of the Kappa Delta Pi International Honor Society in Education.
| 1 | 2 | Next Page