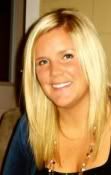 Name:
Kristine Jensen
School:
University of Oregon
Major:
Political Science & Spanish, minor in Business Administration
Job desired:
I'm looking to pursue a career in student affairs as a program advisor/assistant or a position in higher education administration.
Graduation date:
June 2010
Contact info:
chelsea.j.baldwin@gmail.com
Why should you be hired?
Like many of my fellow graduates I had high hopes of landing the perfect career in the perfect location in less than a month after graduating. However the honeymoon is over and I have come to realize no one got to where they are without lots of hard work, persistence, and a strong passion for what they enjoy. I enjoy working with students and organizations. I am more than willing to move cross-country and work my heart out. I know that my strong interpersonal skills, creativity, organizational skills, work ethic, and student programs background make me more than qualified to work alongside educated professionals.
Bio
I'm Kristi, an outgoing, enthusiastic, relentless worker whom just graduated this past spring. I have had an abundance of experience in customer service and retail in my current employment at a retail store. However my passion lies in my volunteer experience that has heavily been in student organizations such as my sorority, panhellenic council and university student senate. As a member of my sorority and of my university's student and faculty senates, I learned valuable budgetary skills in allocating student fees, which I continue to use and practice. My experience as an officer for my university's panhellenic council improved my skills in organizing events such as scholarship banquets, new student orientations, and community forums, as well as furthered my ability to enforce guidelines and procedures for organizations. Other skills I possess from my education include my proficiently in computer programs such as Microsoft Office, Quickbooks, and ICS Recruiter and my understanding of the Spanish language I have studied and practiced for over 8 years.
Currently I work primarily in customer service but I also hold an internship with a sorority recruitment website and book. This internship has improved my interpersonal skills, technological capabilities, editorial writing, and increased my passion for student affairs. I truly enjoy working with students and organizations and believe that they are crucial in giving students the opportunity to learn and experience a wide variety of new things.