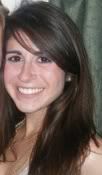 Name:
Jillian Engel
School:
Miami University, Oxford, OH, May 2010
Major:
Journalism and Speech Communication
Job desired:
Seeking opportunities in publishing as an editorial assistant
Graduation date:
2010
Contact info:
jillianengel@gmail.com
Why should you be hired?
I am very quick to learn, detail-oriented and self-motivated and I believe I can make immediate and positive contributions in publishing. I have shown ambition, the ability to multi-task and flexibility as a student journalist and editor of The Miami Student and as an editorial intern at the lifestyle and travel magazine, Maryland Life magazine in Frederick, Md. The knowledge and experience I have gained through these opportunities has convinced me that I want to pursue a career in editing and publishing. I feel I am an excellent candidate for an Editorial Assistant position and when put to the task, I believe this industry will give me an opportunity that would be difficult to duplicate.
Bio
I am eager-to-learn, hard working and self-motivated — all characteristics I am confident will help me make a lasting impact in the world of publishing. I have broad experience in all aspects of print journalism from my writing and editing positions at The Miami Student, and my editorial internships at The Oxford Press, and Maryland's regional travel and leisure magazine, Maryland Life.
During my last two years at Miami, I worked as the Community Editor for The Miami Student, Miami University's 16,000-circulation bi-weekly newspaper. Throughout my experience as an editor, I was immersed in the fast-paced, deadline-oriented world of publishing. I was able to develop productive relationships with my fellow staff members and my writers while making a collaborative effort to solve complex editorial issues. During summer 2009, I had the opportunity to intern for Maryland Life, a magazine dedicated to providing stories about lifestyle, travel and food across the state of Maryland. As an editorial intern for the now six-year-old magazine, I was able to show my strong work ethic as I was put to work on creating a brand new supplement for the 2009 Sept./Oct. issue, the Educational Resource Guide.
In addition to my experience in copy editing and fact checking, I am proficient in MS Office, Photoshop, InDesign, Quark, web publishing and HTML. I am a native of the greater Washington, D.C. metropolitan area and am willing to relocate if necessary for a particular job opening.