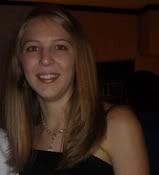 Name:
Chelsea Baldwin
School:
Appalachian State University, Boone, NC
Major:
Communication, Journalism - minors in Spanish & English
Job desired:
A position in Communication, Content Writing, Marketing, Sales, or Social Media within the publishing, marketing, green, non-profit, or other great industries.
Graduation date:
May 2010
Contact info:
chelsea.j.baldwin@gmail.com
Why should you be hired?
I have been told a number of times by fellow AIESEC Executive Board members, "Chelsea, I don't know where our LC (local committee) would be without you." It was a huge compliment, and it is a reflection of my work ethic: I am very passionate about my work, I always strive for excellence in everything I do, and I will never settle for less than my best.
I have a number of professional experiences under my belt, and I am a dedicated and confident individual with proven success and a great ability to communicate, whether in correspondences, in a controlled group setting, or on my toes. One of my biggest strengths is my organizational skills, and my ability to keep a cool head and thrive under pressure. I have a lot to offer, and can't wait to be productive within a company or organization once again.
Bio
I recently graduated from Appalachian State University with a Bachelor of Science in Communication. I graduated with Magna Cum Laude honors, and as the top Journalism student within ASU's Communication department.
In addition to my education and top grades, I spent the last 3.5 years as a member of AIESEC at Appalachian State. AIESEC is a student-run, non-profit organization present in 107 countries that focuses on developing global leaders through facilitating international internships. Not only did I participate in one of these internships by working at a leadership and team-working development camp outside of Mexico City, but by my last year I was working at least 30 hours per week leading the sales and marketing teams, facilitating conference sessions, managing campus relations through a wide variety of campus marketing tactics, and establishing a Board of Advisors. I developed countless hard and soft skills that will be applicable in any professional situation. Some of these include: a year of sales experience, social media marketing, blogging, external relations, team management, internal and external communications, and public speaking.
Since April, I have been writing freelance for a variety of online websites in order to keep my skills fresh and learn new writing and communication techniques. This has taught me a lot about SEO, using images, and a document's visual layout. I was even invited to be a contributor for an environmental web magazine because one of the editors liked some of my articles that he had seen elsewhere.