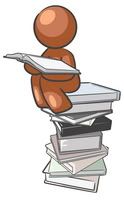 For those of you that were a little too busy this week to read all of New Grad Life's content, here's a nice recap of everything that was published.
News
•
Talking too much/not enough common job interview mistake
•
Weekly Poll: When was your last job interview?
•
New Grads Return Home, Become 'Boomerang Kids'
•
Weekly Grad Star: Lauren Clarke
•
Civil Service: another option for college grads
Job Hunting
•
10 Big Tips for Recent College Grads
•
3 Things That Will Get You Hired
•
What Job Hunters Can Learn From Unemployed Actors
•
10 Uncommon Job Hunt Tactics that Work
Resumes
•
5 Resume-Writing Strategies for a Competitive Market
Interviews
•
Job Interview Questions: "Why Should I Hire You?"
•
What Companies WON'T Do to Prescreen Candidates
•
5 Subliminal Tricks That Make an Employer Adore You
Finance
•
College Grads Offer Investment Advice
Work Life
•
5 Tips for Your First "Real" Job