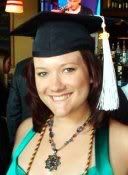 Name:
Cristin McGrath
School:
Temple University in Philadelphia, PA
Major:
Strategic and Organizational Communication with a specialization in Public Relations
Job desired:
I have actively been searching for an account executive position in either an agency setting or in the corporate world. I am extremely interested in the entertainment, travel and hospitality fields, and am a strong believer of "doing what you love."
Graduation date:
May 2010
Contact info:
cristin.mcgrath@live.com
Why should you be hired?
Having only graduated in May, I bring real-world experience from both domestic and global companies. During college, I showcased my desire to succeed by securing two coveted internships which required a commute of four hours per day; I am extremely dedicated to this field and will remain loyal to a company that gives me a chance to shine. I am a self-starter who is detail-orientated and ready to take on any project, major or minor. Having a mother who specializes in graphic design set me up to become a well-rounded publicist, who not only has the skills necessary to write a press release but can also design a document! In my twenty-one short years, I have already organized a press tour, assisted with two red carpet events, created and presented a complete press plan and I am hoping a company will be willing to help me strengthen my skills.
Bio
I have industry experience gained not only during time spent with global corporations such as MTV Networks and Sony Music Entertainment, but with one of London's premiere events management and catering firms, Inn or Out LTD. I graduated in four years, while holding down internships, part-time positions and 18 credits. I thrive while working with time constraints, multiple project deadlines and am completely capable of multitasking. My passion for social media's integration with public relations is apparent through my personal branding, in which I use a blog, Twitter, a personal domain and LinkedIn. I believe given the right atmosphere, I can excel and become an integral part of any established team.
I am determined, ambitious and my level of professionalism will be apparent in any company, big or small. I hope to see my career rocket me into the world of music and entertainment; my time spent at VH1 and Jive LG cemented my desire to be in a field that is constantly changing, with crazy hours and tons of pressure. I have experience working televised events, press tours and the creation of press memos, advisories and biographies. Finally, I do not wish to enter into the field of public relations the "glitz" or "glamour"; image management, events management and writing have always been passions of mine. My desire to be in this field is not a flash in the pan!