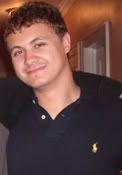 Name:
Chris McNamara
School:
Loyola University Chicago
Major:
Journalism and Political Science
Job desired:
TV or Radio producing, Consumer Relations, Corporate Communications, Financial Communications, or Media Relations.
Graduation date:
2010
Contact info:
cwilmc@gmail.com
http://cwilmc.com
Why should you be hired?
My generation, millenials, gets a bad rap. We're described as self-centered and attached to our parents. Well, I'm neither. I love being independent and have an incredibly strong work ethic. My career goal is to make whoever I work for the best. As corny as it sounds, I will fall in love with my company and the work it does. I'll relocate anywhere in the United States for my career.
My hard work speaks for itself. I graduated cum laude with two degrees from Loyola. My writing skills are great, I recognize most AP style errors, and I have a love-affair with all things news. My technical skills are also very good. I know web content management systems, Adobe Photoshop, Adobe Audition, and Final Cut Pro just to name a few. If you hire me, you're going to get a passionate, multi-talented, and hard-working team member.
Bio
My collegiate career at Loyola University Chicago gave me valuable academic and professional experience. I held an internship with CBS Radio at WBBM-AM, Newsradio 780. There, I helped manage the station's web site by proofreading and editing wire copy. I also recorded additional video for reporters to go with their stories. Additionally, I represented the station at promotional events in the Chicago area. This internship taught me how to work under pressure and tight deadlines.
At Loyola, I helped produce, direct, report, write, and edit Loyola News Chicago in its first semester (Spring 2010). I received the honor of best newscast director after the final newscast. I also served as an on-air DJ and reporter for WLUW-FM. Here, I pitched stories to my editor and wrote on both tight and loose deadlines.
For public relations work, my Advanced Public Relations class worked with a real client. I wrote a news release and pitched media outlets. Being a journalist gave me a huge advantage over other public relations students. I consistently followed the news, knew AP style, recognized trends, and made connections between real-world events and classic public relations case studies.
I served as the public relations chair for my fraternity, Tau Kappa Epsilon. I promoted and executed various events, specifically our "Students Fight Back" self-defense program. During Greek Week, I made our chapter go from last place (2008) to third place (2009) by developing a team-oriented plan.