Resume writing ideas that can change everything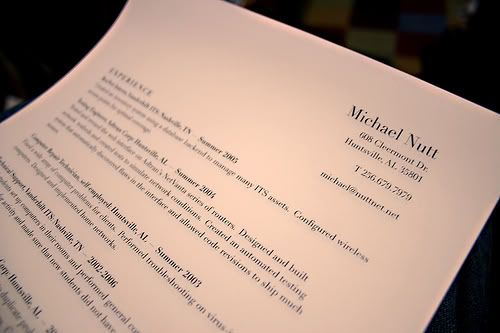 Tweet
If you're a professional searching for your next opportunity in today's aggressive job market, you've probably found that the task of marketing yourself on your
resume
is unlike any other.
How do you sum up a long, storied career in just a few paragraphs? What is the best way to differentiate yourself on paper--and to get employers to see your value?
Standing out among the pack requires an intense emphasis on your natural leadership abilities, the impact you have on your employer's business, the feedback you get from colleagues, and the hard skills that you bring to the table.
This information comprises what is known as a "personal brand," and it has become the cornerstone of a successful professional resume in the employment arena.
Here are 5 insider tips that can help bring out your personal brand--and get your
resume
to open more doors for you:
1 - Hone Your Message.
Many resumes contain too much detail, which is quite understandable given the long tenure that some candidates possess.
However, it's asking a lot of hiring authorities to wade through more than 2 or 3 pages of information.
My recommendation? Sharpen the intensity of your branding message by zeroing in on your top 3-5 main qualifiers, including success stories and keywords that back these up.
In addition, focus on one career goal and skill set at a time. This may mean that you will create one
resume
targeting a role in Operations, and another that describes your skills for a Sales position.
| 1 | 2 | 3 | Next Page