Nursing school students encounter unexpected difficulty in finding work after graduation.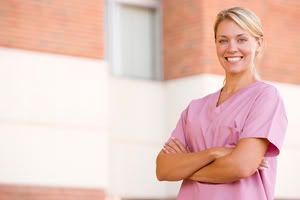 Armine Khudanyan left college in 2009 ready for a career in nursing. But despite hearing for years about a nursing shortage, what she and her fellow Cal State Los Angeles nursing graduates found was a bunch of closed doors.
"In my graduating class there were 10 of us," said Khudanyan, 30, a native of Armenia who lives in Glendale. "Right out of school only three of us were able to get jobs. A lot of hospitals were not hiring, especially new grads."
Through a Verdugo Workforce Investment Board program funded by federal stimulus money, Khudanyan landed a job she loves in the emergency room at Glendale Memorial Hospital and Health Center.
The workforce board pays half the costs for hospitals to train new nurses, said Don Nakamoto, labor market specialist for the agency. The board has spent roughly $250,000 to subsidize the salaries of about 40 nurses during their 12- to 16-week training periods at Glendale Memorial, Glendale Adventist Medical Center, Providence St. Joseph Medical Center and Verdugo Hills Hospital.
Kristin Anderson, senior health care recruiter at Glendale Memorial, said the hospital has added 10 nurses to its nursing corps of about 400 through the program.
In recent years, hospitals have been hard-pressed to pay training expenses, and many have turned to temps or launched national and even international nurse recruiting efforts, Nakamoto said.
"The public perception is that there is a nursing shortage and anyone who comes out of school has multiple job offers," Nakamoto said. But a few years ago, "bottlenecks started developing. It was happening throughout the country."
Paul Celuch, vice president of human resources at Verdugo Hills Hospital, said the high cost of training nurses have contributed to the bottleneck.
Decisions by many experienced nurses to extend their working careers because of the recession's impact on retirement accounts or their spouses' jobs has also kept the job market tight, he added.
Mike Dacumos, 25, said he was surprised at what h
appened after he earned his nursing degree last year.
| 1 | 2 | Next Page