Job interview guidelines that will lead to success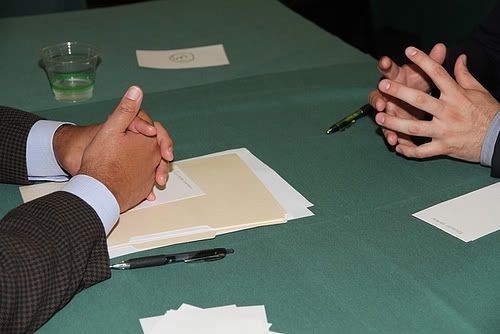 Tweet
Prepare for your
interview
by a review of these 10 rules. They will guide you to be confident, speak with clarity and use the interview to show your talents, fit and value. This is your moment to stand out and get hired.
Rule 1: Think "fit."
The
interview
is as much for you to determine if the company is the right fit for you as for the company to decide if you are the right fit for them.
Rule 2: Impressions matter.
Be on time. Be professional and conservative in your appearance. Watch the length of the skirt and the cut of the blouse. Shirts should be pressed, neat and should fit you. Your care about yourself is a statement about the care of your work.
Rule 3. Be positive, upbeat, optimistic and congenial.
Notice details around you to ask about to start a casual conversation; this helps both parties relax. Be human and work first to connect to the interviewer as a person.
Rule 4. Have three great questions ready to ask to show that you want to fully understand how you can make a significant difference in the company.
This also ensures that if you feel an uncomfortable pause, you have a question ready to keep the conversation moving. Here are my suggestions:
1. How do you share information and performance expectations with your employees?
2. What do your employees like most about working here? What do your employees find most challenging about working here?
3. How are employees held accountable for making a difference in their jobs?
Rule 5: Focus on your value.
Interviews
are the time for you to give more details about what you are great at and how you add value. Don't be shy about your ability to make a difference. Be sure you can quantify your impact; give details about how you improved things, invented things, saved the company money, brought a team more together, etc. The more you can focus the
interview
around your value, the more the hiring company will see that they need you.
| 1 | 2 | 3 | Next Page