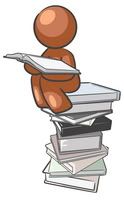 Share
For those of you that were a little too busy this week to read all of New Grad Life's content, here's a nice recap of everything that was published.
Take some time to relax, browse the content, and most importantly, learn!
News
•
College Seniors Speak Out - are schools helpful for job hunting?
•
College grads turn to paid internships during economic slump
•
Fresh grads to have a better shot at scarce jobs than previous classes
•
One Grad Faces Decisions in a Time of Recession
Job Hunting
•
The 10 Biggest Job Hunt Myths
Resumes
•
6 Words That Kill Your Resume
•
New Grad Life's Resume Writing/Distribution Service
•
What Counts as Experience on a College Grad's Resume
Interviews
•
Job Interview Preparation 101 for College Graduates
•
11 Things HR Won't Tell You
Networking