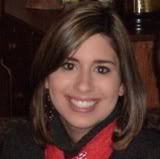 Name:
Julia Ohaver
School:
Purdue University
Major:
Public Relations & Advertising
Graduation date:
December 2009
Job desired:
I am looking for an entry-level position in advertising, such as account coordinator or traffic coordinator. Ideally I would like to stay in the Chicago area, but I am open to relocating.
Contact info:
jaohaver@gmail.com
Why should you be hired?
I should be hired because I am passionate, organized and creative. I am a self-motivated and independent worker, but I love working with others and brainstorming ideas as part of a team. While I am very detail-oriented, I am able to step back and see the big picture as well. Being highly involved in college taught me strong multitasking skills; I can handle multiple projects at the same time while maintaining focus and dedication to everything assigned to me. I love being challenged and thrive in a fast-paced and ever-changing environment. In junior high I collected "Got Milk?" ads because I thought they were creative and fun, and now my interest in ads has led me to pursue a career within the advertising industry.
Bio
I was extremely involved with campus life at Purdue. On top of minoring in French and History, I joined a sorority, worked on the Student Union Board, helped with Dance Marathon, served on the Panhellenic Board of Directors, led freshman orientation groups, maintained my faith, networked in Communications organizations and worked part-time. I love being challenged and hate being bored so I always made sure I had something to do or somewhere to be, and I chose activities of varied focus that allowed me to meet different people in each one. My involvement really helped turn me into both a leader and a team player and fully developed my organization and communication skills. The public relations, advertising and communication classes that I took have taught me about the advertising/public relations industry but I really want the first-hand introduction to advertising that can only come from work experience. I chose my major because I am passionate about advertising and eager to really get started; I cannot wait to really dig my hands into the creative process!