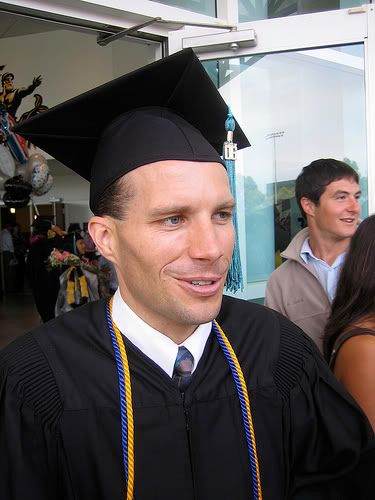 Hard times mean harder decisions for recent grads
Share
To go or not to go? That is the question.
For many recent college grads (myself included), graduate school is an option with ever-increasing appeal. With young people's unemployment at almost 19 percent in March, hiring of 2010 college graduates down 7 percent from last year's already dismal numbers and underemployment of 16- to 24-year-olds estimated at a whopping 31.9 percent at the end of last year, career opportunities aren't exactly plentiful for the bright young minds of the future.
Enrollment in graduate school is on the rise; the Higher Education Research Institute's 2009 Senior Survey found that 28.9 percent of graduating seniors expected to go the following fall. This is hardly surprising; graduate school enrollment generally goes up in bad economic times.
As the expression goes, "When the going gets tough, the tough go to graduate school."
Statistics aside, I have personally observed that in today's market — at least in California — a college degree doesn't quite equate to the standard of living that my parents (or their parents) assured me I'd have before I entered into the world of student loan debt. Most of my former classmates are living at home with their parents (national estimates suggest that 80 percent of college grads move home after graduating), and the vast majority of them are underemployed. Many of those who are employed full time dislike their
jobs
, and those who like their jobs don't make enough money to live on their own.
A 2006 study by the National Bureau of Economic Research suggests that my graduating class is especially out of luck: "Earnings losses from temporarily high unemployment rates are minimal for workers with two or more years of work experience and are greatest for labor market entrants." In English, that means that people with less than two years of work experience are the ones least likely to find jobs right now.
As a member of this unlucky cohort, I decided last fall to explore my options for making the most of the recession. With dismal
job
prospects, a graduate degree starts to look pretty good, but the payoff of getting one has been widely debated. First of all, the term is extremely generic — it lumps MBAs, J.D.s, M.D.s, Ph.D.s, and the gamut of M.A.s together, which makes it difficult to assess the degrees' benefits. After all, a six-year funded doctoral program in microbiology has little in common with a two-year master's in public policy and its $100,000 price tag.
That, of course, hasn't stopped people from trying. The Economist asserts that "if you're going to go back to school, now is the time to do it," as both the opportunity cost of the time spent in school and that of the money spent on school are low.
| 1 | 2 | Next Page