A job interview on the phone is just as important as in person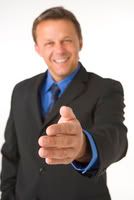 Alesia Benedict, CPRW, JCTC Getinterviews.com
Tweet
With all the job hunting going on right now, I get a lot of questions about how applicants can put their best foot forward and get hired.
To get the best information possible, I went to the source and surveyed a group of hiring managers. They shared the following tips — things they won't tell you at
interviews
, but sure wish you knew before you came in the door.
1. Know your stuff.
Before any interview, do your homework and research the company. Very few candidates do this, so if you are one of them you'll immediately set yourself apart. Research the industry and, at the very minimum, read every page of the company website to learn more about clients, services, management and competitors. Read the company press releases to find out what their latest projects are. Utilize websites like LinkedIn or Google to learn the background of the people you'll be meeting.
Sample comment: "I have always been astounded when I ask the question 'Do you know what we do?' only to get a response like 'I sort of have an idea.'"
2. Show that you're a good match for the job and organization.
Tell the interviewer how you see yourself fitting into the company and what value you'll be able to add quickly. Show that you're a team member who's willing to go to the mat, and that you're not just in the job until something better comes along. Strong commitment and positive attitude often go further than actual skill — as long as you're teachable, open to feedback and a quick study.
3. Don't be late.
Allow yourself enough time to get lost or delayed in traffic. Make a dry run the day before so you know exactly where you're going, the best way to get there, and where to park. Have the phone number of the interviewer with you so if you're unavoidably delayed you can call and see if you should still come or if another time would be better.
4. Don't be early.
If you're really early, find a place to freshen up a little bit and wait until your appointment. You can present yourself 5 - 10 minutes before your
interview
time, but no earlier. The interviewer is on a schedule and doesn't want to see you until the appointment time.
5. Dress appropriately.
This sounds simple, but too many people show up for an interview with dirty, unpressed clothes, uncombed hair, and/or needing a shower.
Sample comment: "If someone wants a
job
in my office, they need to show me that they are capable of looking the part. If you would wear it to the gym or the grocery store late at night, it's probably not good for an
interview
."
| 1 | 2 | Next Page