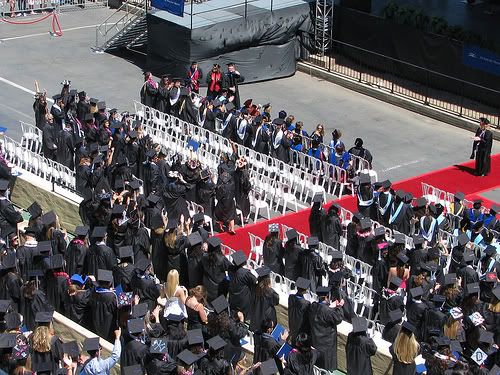 Good news for college grads?
Share
The hiring outlook for college graduates has improved slightly from last year, but overall, a challenging job market lies ahead for many grads.
Despite the challenges, many
college graduates
remain optimistic about finding work.
"I'm not worried," said Megan Martin, who graduates from Penn State Mont Alto's physical therapy assistant program. "I've started looking, and I have an interview lined up for June.
"One of the facilities where I had my clinicals had an opening and called me back for an interview. I go online every day to see what's out there," Martin said. "There's several
new jobs
every day. It won't be a problem at all to find a job."
Vickie Johnson had just bought a house when she was laid off in June 2008 from her job as a warehouse supervisor, so she decided to go back to school.
"I did look for a while (for a job), but there really wasn't a lot available in our area at that time. What I did find wasn't going to pay the mortgage or the bills," she said. "I decided I could finally go to school. I had a couple of fields I was interested in, and physical therapy was near the top of the list."
Like Martin, she will graduate from the physical therapy assistant program this month and complete her final clinical training this summer.
In the meantime, Johnson has been tweaking her resume and occasionally checking for
job openings online
.
"Since the economy went downhill in our area, it (the job outlook) is not as positive as we'd
like it to be," she said. "I don't want to say it's bad, but just according to the ads I've seen for available positions, it looks like it's more promising in the York or Harrisburg areas. We're all optimistic, but there is a feeling it might be tougher than we hoped to find positions."
Erica Sexton of McConnellsburg had earned a degree in theater from Shenandoah University, but went back to school to complete a bachelor's degree in human development and now is studying to become an elementary school teacher through Wilson College's Teacher Intern Program.
She plans to finish the program this fall or next spring. She's also hopeful about her job prospects.
"I'm optimistic about it. Anything could change with cuts, but I think that teaching is a good
career
choice and I think it will work out well," she said.
| 1 | 2 | Next Page