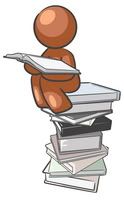 Share
For those of you that were a little too busy this week to read all of New Grad Life's content, here's a nice recap of everything that was published.
Take some time to relax, browse the content, and most importantly, learn!
News
•
Job-hunting college grads may require extreme social networking makeover
•
To pursue plans and dreams, new grads need financial tools
Job Hunting
•
Applying to Jobs Online? 3 Mistakes to Avoid!
•
15 Twitter Job Search Apps for New Grads
•
8 Job Search Tips to Remember
Resumes
•
Resume Tip: 5 Ways To Prevent Emailed Resumes From Getting Blocked as Spam
Interviews
•
Job Interview Questions: "What Are Your Greatest Weaknesses?"
•
10 Ways to Screw up an Interview