Helping those who want to start their careers, one college grad at a time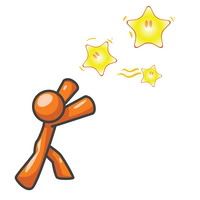 We at New Grad Life get many emails from college grads who tell us that by studying our content they finally landed jobs. That made us think - how else could we help new grads find work in this economy?
Introducing our brand new weekly
Grad Star
program!
Every day we get thousands of visitors to our blog, and sometimes they're recruiters, HR professionals, or employers - so why not use this traffic to help graduates find jobs?
Starting next Monday, April 26th, we will dedicate one blog post each week to a college grad or college senior who's looking for a job. This service is completely free. Just send an email to
info@newgradlife.com
with the following info:
• Your first and last name
• School
• Major
• Graduation year (2009 and 2010 graduates
only
)
• Type of job you're looking for (be specific; a job title beats "I'm open for anything")
• Picture of yourself (max size 175x175 pixels)
• Short bio about yourself (max 250 words)
*Don't give your life story, just the basics! Work experience, skills, background, career goals, etc.
• Why should you be hired? (max 150 words)
Important Notes:
- The weekly Grad Star will be picked at random on a weekly basis from a pool of applicants
- One submission only please, duplicates will be ignored
- To be considered for this free service you
must
provide all the required info above
- Good luck!