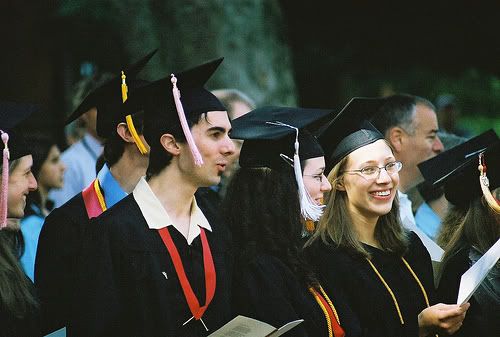 Reprinted with permission from
http://readingeagle.com/
Jobs requiring higher education soon may outpace number of college grads
Share
After Jill S. Darr graduates from Albright College in May, she plans to pursue a
career
as a fashion buyer or fashion journalist.
Darr, 22, is a textbook example of how a student can stay on course and graduate on time - through hard work, dedication and paying attention to details.
But some are concerned that
college graduation
rates will not keep pace with the number of jobs that will require a degree.
"Both positions would require a four-year degree in fashion, and most employers want experience on top of that, so that's why I'm involved in all the extracurricular activities," said the native of Dillsburg, York County.
She also had to maintain her grades to keep a scholarship and take four classes a semester to graduate in four years.
"I made sure I was keeping track of the classes I took and the requirements they had and I kept track with my fashion adviser," Darr said of Doreen Burdalski, chairwoman of Albright's fashion department. "We had a closer relationship because it is a smaller college."
Within 10 years, more than 60 percent of jobs will require a college degree, yet only 43 percent of Pennsylvanians ages 25 to 34 have earned degrees, according to Complete College America, a Washington-based group dedicated to increasing graduation rates.
This month Gov. Ed Rendell announced Pennsylvania is one of 17 states pledging to increase graduation rates.
"The next step is to form a group of stakeholders to identify specific goals and how we'll go about achieving them," said Michael Race, a spokesman for the state Department of Education. "The plan is to meet those goals by 2020, so in the next few months to a year we'll have the working group set up and the projected graduation rates that we want for colleges and universities."
Berks County's high schools generally are doing a good job sending students on to
higher education
, local college officials said.
At Gov. Mifflin, for example, about 80 percent of recent graduating classes went on to a two- or four-year college or nursing, business or technical school, said Keri Morton, a spokeswoman for the district, which has students from varying socioeconomic backgrounds. About 4 percent of recent Mifflin graduates went into the military.
| 1 | 2 | 3 | Next Page