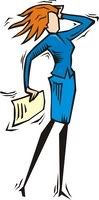 Common sense interview mistakes? Not for new grads!
Share
This post was written by Julie O'Malley, a Content Writer and Certified Professional Resume Writer (CPRW) at PongoResume.com.
College graduates
make many mistakes during job interviews due to lack of experience, but some things just stick out. Here are 8 common "stupid" interivew mistakes that college grads make during
job interviews
. Take some notes and learn!
1. Acting bored or cocky (69%)
This sounds familiar. We had someone interviewing at Pongo recently who seemed pretty good, but two or three people used the word "cocky" to describe the person's attitude. (Our managers, like those at many companies, solicit opinions from everybody who comes in contact with a job candidate, not just those in the interview room – hint, hint.) If you're a new grad, it's important to realize that you may have been the coolest kid on campus a few months ago, but today you're an unproven beginner. A positive, respectful attitude is one way to set yourself apart. Confident = good. Cocky = bad.
2. Not dressing appropriately (65%)
Your interview attire, like your attitude, says a lot about whether you're serious about proving yourself, or just think you're entitled to the job because you're you. Your clothing should be clean, pressed, and modest. As they say in middle school, no visible boxers, bellies, or boobs.
3. Coming to the interview with no knowledge of the company (59%)
There's no excuse for not researching an organization that's considering hiring you. They have a web site; use it to learn what they do, who they are, what they specialize in. Google the executives' names (after all, they'll be Googling you; see #8, below).
4. Not turning off cell phones or electronic devices (57%)
Frankly, I'm surprised this isn't No. 1. If you accidentally leave your phone on and it rings during the
job interview
, don't get flustered and start babbling, "OMG, I can't believe I did that!" Offer a brief, sincere apology, turn off the phone (without checking who it is), then carry on professionally as if nothing happened.
5. Not asking good questions during the interview (50%)
If you don't ask anything, you must not be interested. That's what the hiring manager will assume. This is a place where you supposedly want to spend most of your waking hours for the next couple years or more. You must want to know something. Besides, there are certain questions you should always ask.
| 1 | 2 | Next Page