Learn to conquer the career fair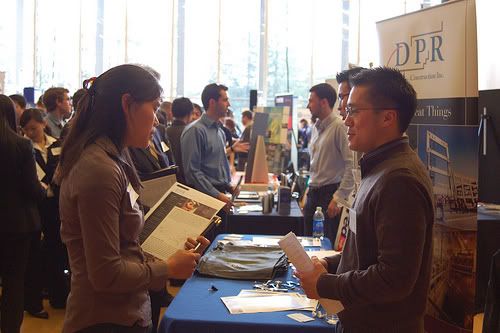 Tweet
Job fairs or Career fairs can often seem quite simple for many job seekers. It looks like all you have to do is walk up to a company representative, state your name, give them your resume, and you're done. On the contrary, job fairs are not as simple as one might think - in fact there are many mistakes job seekers make at these events. Below we've listed the top 5 mistakes made at job fairs and what you should do to avoid them.
#1: Don't have your elevator pitch nailed down
Before you walk into any career fair you need to have your elevator pitch nailed. In fact, you need two versions of you pitch. The first version should be the 10-second pitch. The 10 second pitch is what you tell someone as you are introducing yourself. You also need your 60 second pitch. This is your more detailed discussion of your background, accomplishments, and what you are looking for. If you don't have these two pitches nailed down, you are likely wasting your time. Career fairs are packed with people who are very focused and prepared.
#2: Have not researched the companies that are attending
Most career fairs provide a list of companies that will be attending. Before you attend a career fair you must (1) review this list; (2) identify companies you are interested in; and (3) research those companies. You should never go into a career fair without doing your research. Think of the career fair as a preliminary interview. The representatives of each company are looking for candidates that standout from the masses. Those candidates that are well informed distinguish themselves. Because you may visit numerous companies, you cannot be expected to be as prepared as you would be for a first round interview; however, you need to know much more than where they are located and what type of business they are involved in. Prepare notes on each company. Review them before you approach their table. Check our article on how to research a prospective employer by clicking
here
#3: Didn't bring enough copies of your resume
You don't go to a gunfight with too few bullets in your gun. You don't go to a career fair with too few resumes. You should bring as many resumes as possible. Bring twice what you need. If this means copying your resume on simple white paper, do it. If you come unprepared to a career fair, as a recruiter, I would think you might come unprepared to a client meeting.
| 1 | 2 | Next Page