Step 2: Use Facebook's privacy settings
While it's good practice to create business profiles on business-oriented social networks, Facebook is the undisputed hub of the net's social activity.
So, here's an alternative to multiple profiles: tweak Facebook's privacy settings so that work contacts aren't able to see any of your friends' pictures of your latest debauched night on the town.
Click 'Friends' on the main menu bar in Facebook and then click '+Create' in the Lists section of the sidebar. Call this list 'Work'. You'll be given the option to add existing friends to this list.
Create a second list called 'Mates'. Once created, you can add anyone who requests friendship to either list. To make people on your Work list see a professional looking profile, go to 'Settings | Privacy | Profile'. The options here allow you to choose exactly who sees what.
As an example, let's say you only want people on your Mates list to see your photos. Click on 'Edit photo album settings', choose an album and make sure only your friends can see it. Then in the 'Except these people' box, type in 'Work'. Now you'll be able to share all the amusing photos you want to with your mates, safe in the knowledge that the people on your 'Work' list can't see what you get up to after hours.
Step 3: Be careful what you say
Separating your work and personal lives is only one part of the process of creating a professional image for yourself online – a technique named 'personal branding'.
You need to present a 'best version' of yourself using the whole range of social-media tools available. "My key Twitter advice to BBC colleagues (is) don't say anything you wouldn't say on air," BBC Technology Correspondent Rory Cellan Jones recently tweeted.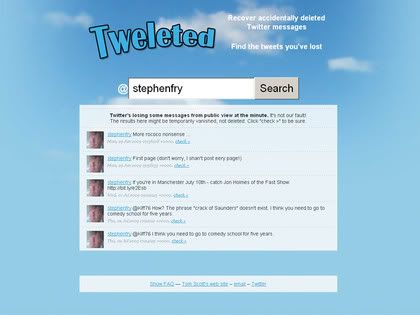 WATCH YOUR WORDS:
It's easy to tap out a poorly judged message in the heat of the moment, but it's much harder to delete the evidence
That advice holds true whether you're blogging, tweeting or changing a public Facebook status update. "It is very easy to build your reputation and credibility using social media. Unfortunately, it's just as easy to damage it irrevocably by being careless and whimsical in its use," says Judith Germain, Managing Director of leadership consultancy Dynamic Transitions.
"One thing to remember is that everything that you do on the web is permanent, even in 'closed' networks." The website Tweleted and the Google cache mean that even deleted posts can be easily found. So think for a second before pressing that 'Update' button.
And if you do find yourself participating in an argument, make sure you're polite – or just anonymous.
Previous page | 1 | 2 | 3 | 4 | 5 | 6 | Next Page